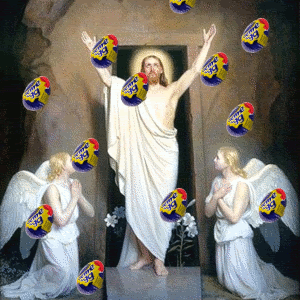 "Sweet Jesus", the perfect pun-intended exclamation when I see all that extra Easter candy tempting me at work and home. What to do with it all? Eat it, duh.
First off, if you have leftover candy, I congratulate you on your steadfast will-power. Second, if you find sweets lingering around your house, consider doing more than maneuvering them to the office break room. Sure, stuffing a Reese's Egg into your mouth is great, but what if you found ways to incorporate these sugar-laden treats into REAL dishes, drinks, and desserts? Not only do you get to eat the candy, but consuming those Hershey Kisses in a savory dinner induces a lower guilt-to-insulin ratio (Think: Kill two candy bird-eggs with one stone.) This challenge of kitchen creativity is something I've been experimenting with lately as friends have been kind enough to leave an array of different sweets at our house (I'm typing to you Molly 😉 )
So, here are my suggestions on how to get the most bang for your bite!
Chocolate: Chocolate is my weakness, so you can bet that I've already consumed these leftovers.
If you're a fellow sweet-toother, take your chocolate and add it to more chocolate. I recently took my leftover chocolate, broke it into pieces, and threw it into pancake batter. Voila, chocolate chip pancakes! I thought of this life hack this past week when I was feeling lazy and had a hankering for chocolate. No dessert before dinner? Pffffft, my dinner was dessert breakfast so I'm confident when I say I killed it. You could also consider making cupcakes and topping them with crushed chocolate candy…….because, you know, it's chocolate.
If you prefer savory to sweet, check out this list of savory chocolate dishes. Some call for cocoa powder, others call for actual chocolate. I definitely think I'm going to try the Chocolate Barbecue Sauce with some pulled chicken or use it as a topping for grilling ribs this summer. If you're skeptical, try these recipes as-is. Or if you're feeling adventurous, take some sweet creative liberties and use these recipes as ideas for some of your own kitchen creations!
Gummies: Polling my friends, I've found that candy preferences are quite polarized. I'm a chocolate person, but a lot of my friends prefer gummy candies. Whether sour or sweet, there are also ways to use these sticky sweets in your kitchen creations!
The options for both sweet and sour gummy candies are somewhat limited. It's challenging to find ways to use these leftovers in ways that could be considered dinner-worthy, but there are options to use these bears and worms in other desserts. Consider making Gummy Bear Thumbprint cookies. Another college-inspired option is Gummy Bear Sangria (saaaay whaaaat?) That's right, that important skill of making the perfect vodka gummy bears you learned sophomore year is rearing it's sugary head. This is just the "adult" version, replacing vodka with your favorite white wine.
With warm weather right around the corner, consider Sour Worm Popsicles, a kid friendly and super easy way to step up your dessert game. (You still have the option to add alcohol while nixing the kid-friendly tag – enjoy.)
Other random candy ideas:
Reese's Pieces – There are none of these addicting candies left at our place; I have absolutely no will power when it comes to these little magical morsels. But as I began thinking about innovative ways to use these sweet peanut butter candies, it struck me. What about a peanut sauce? Add a lil' spice to balance out the sweetness, and maybe you could have a flavorful peanut sauce to use in dishes? Anyone willing to try it? I might have to do another kitchen experiment to see if this is a viable idea – I'll keep you posted, but if anyone beats me to it, let me know how it turns out!?
Jelly Beans – Throw them at your enemies because they're gross and probably hurt like a bitch. Wait, what do you mean your family doesn't play Easter Sting Pong with Jelly Belly's after Easter dinner? JK, excuse my bias. I think they're gross and the weirdest candy (because who wants to eat bean-shaped candy flavored as a sugary rendition of Ketchup?) It takes all kinds I guess… But seriously, I don't really have any edible ideas for these flavorful fiends. BUT check out some other cool lifestyle uses for them here  (definitely uses I can get be(an)hind!)
Peeps – So you know that S'mores Dip that's alllllllll the rage right now? (Did I really just say "all the rage? who am I? my mom?) No? Check out Pinterest, I'm sure one of your friends have re-pinned a similar recipe to the one linked here. Yeah, ok, well these colorful mammal marshmallow molds would be a perfect substitution for those boring white ones everyone else is using. Or a perfect substitution for traditional marshmallows in any s'mores rendition. Go run & tell your peeps.
Have any other creative uses for leftover Easter candy? Please share by commenting! I'm always curious to hear what other innovative ways you all are overcoming your culinary functional fixedness. Stay tuned for more fashionable foodie fun next Foodsday (aka Tuesday). Up next? One of my favorite quick & easy dinners that allows for full culinary creativity – fried rice!
Until next time, keep it stylish.
Xoxo,
Taylor